Etlad is known as the provider of the best pile breaking in Dubai
Experience the best Pile breaking in Dubai with Etlad
Concrete pile dissection is regarded as an essential aspect of the construction process. The selection of an appropriate pile-breaking method may result in financial and operational savings, as well as approach and mitigate any health and safety risks at this point of the project. Etlad is known as one of the best companies that provide pile-cutting contractors in Dubai because of its efficiency and timely completion of projects. 
Pile cutting is widely employed in the construction industry, from utilities and road maintenance to residential buildings. When the cutter device is lowered into the pile, it works to break away the concrete elements by cutting away the concrete with specialised hydraulic jaws. This makes construction projects far more efficient. Pile cutting is a time-saving alternative to a normally time-consuming operation.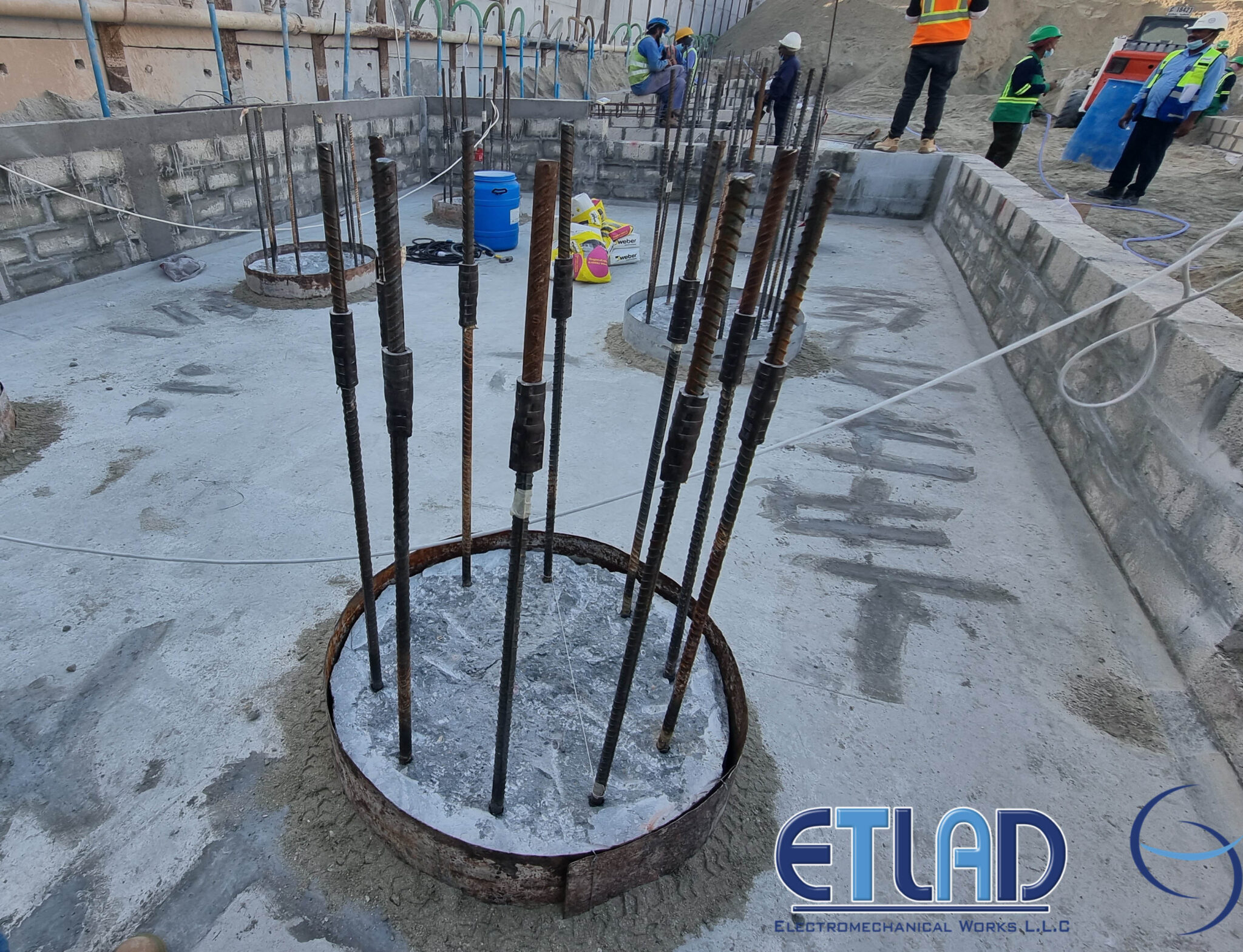 [ Projects ]
Our Projects
What are the benefits of Pile breaking? 
Pile breakers can assist in minimising danger and labour and maintenance costs, especially for projects that need multiple piles to be broken in a single session. Pile breakers are fully automated and operate at a far faster rate than traditional concrete breaking procedures, saving time. Furthermore, pile breakers are straightforward to operate and maintain. They don't require any particular talents to use and can persist for years.
Any pile-cutting job that falls short of perfection puts your building at risk of collapsing. Pile cutting is not a simple task that can be learned in a couple of days or weeks. Getting it properly every time requires a lot of research, expertise, and technological know-how. To maintain flawless structural integrity, extreme precision and accuracy are required. That is why, when looking for a pile-cutting contractor in Dubai, you want only the best in the business.
We provide the most quality-assured pile-cutting contractor in Dubai as we use both pile construction and pile cropping methods in pile breaking. 
What is meant by Pile breaking?
Piles were cast with high slump concrete; fines from the concrete may gather at the top during concreting, and if there is any slush in the bored pile, it will also come up during concreting. So the pile's concreting is overflowing to remove all contaminants. Following pile casting, the top piece of the pile is chipped out until it reaches the pile cap.
Excavation is done around the pile region to allow chipping of the additional pile component. Pile Chipping is the additional pile above the cutoff level that ensured good and sound concrete. The primary goal of chipping is to remove excess slushy concrete (a mixture of concrete, slurry, and mud) over the cutoff level. The black slush oozes out of the borehole while concreting. The muck produced while boring is represented by black slush.
Being the most reliable pile-cutting contractor in Dubai, we make sure to provide the most trusted and reliable pile-breaking services with the best equipment and advancements. 
At Etlad, we understand that certain construction or maintenance work must be completed quickly. Effective and timely outcomes are critical for a project's success. Our specialists at Etlad are highly educated to deliver professional and experienced concrete pile-cutting services for a wide range of applications and requirements. Each circumstance is assessed, and consumers are counselled on the best course of action to meet their needs.
Known as the best pile-breaking contractor in Dubai, 
All work-related garbage is also properly swept away and disposed of in an environmentally acceptable manner. Being the providers of the best pile breaking in Dubai, we make every effort to keep waste costs as low as feasible. Because the cost of failure in the construction sector is still quite high, our commitment to constantly improve the process benefits you as a contractor by lowering expenses associated with failures and downtime providing the most entrusted pile breaking in Dubai. 
How does Etlad provide the best pile breaking in Dubai?
Years of expertise:
 With over a decade of accomplished expertise, ETLAD has been delivering exceptional construction services to clients across the UAE. Through our extensive experience in pile breaking and other construction services, we have established ourselves as a renowned company in Dubai specializing in pile breaking. Our skilled workforce undertakes diverse projects, tackling even the most challenging ones, positioning us among the top pile breaking businesses in Dubai. Additionally, our ability to provide accurate project estimates and timelines empowers clients to effectively plan and budget, solidifying our reputation as one of the premier pile breaking companies in Dubai.
A team full of experts:
ETLAD boasts a team of skilled professionals who possess significant expertise in their respective areas of specialization. Through rigorous training, our personnel have honed their skills, establishing us as a leading pile breaking enterprise in Dubai. Equipped with a diverse range of pile breaking equipment and techniques, our team ensures the meticulous execution of each project. Moreover, our commitment to providing exceptional customer service ensures that every aspect of the project aligns with the customer's requirements and expectations.
Implying the latest technology in our work:
ETLAD has undertaken substantial measures to acquire state-of-the-art surface grinding equipment within the industry. This cutting-edge technology enables them to deliver unparalleled surface grinding services to their valued customers. Additionally, their equipment undergoes regular maintenance and repair to ensure optimal performance and minimize the risk of accidents or delays. By embracing emerging technologies, we have emerged as one of Dubai's premier pile breaking companies.
Hilti machines:
At Etlad, all of our machinery and equipment are made by Hilti, ensuring that we provide high-quality pile breaking services in Dubai.
24-hour assistance available: 
We function 24 hours to ensure smooth working and processing of our communication with our clients and customers.